The Martz Studio, Brown County,
designed by Karl and built by Karl and Becky.
In 1947, Karl, Becky, and sons Eric and Brian moved to Bloomington, where they lived for two years in a trailer. (The trailer had the floor space of three ordinary trailers, due to fold-out side rooms.) During this time, Karl designed a studio, and began construction on land purchased from furniture-maker Earl Page in Brown County, Indiana, two miles east of the town of Nashville on Old State Route 46 (near the North Entrance to the Brown County State Park). In the summer of 1949, the family moved to the site of the studio-to-be, living in tents for the summer. By fall, a single room had been roofed over. It had a dirt floor and temporary plastic in the windows. During this stage, Becky was known to heat food on a galvanized iron bucket with holes punched in the bottom, turned upside down over a fire. True to form, Karl treated this as a learning experience, and did nearly all of the construction by himself.
He compromised in hiring a bulldozer to cut a level area out of the side of the hill, a cement truck to pour the foundation (in a trench he dug with a shovel), and Hank Swain to help with the concrete floor.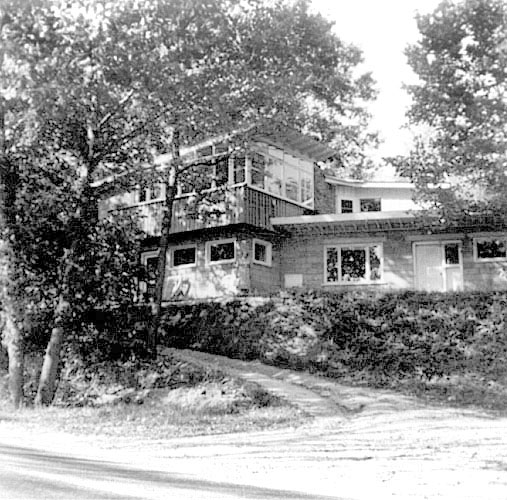 Gradually, over the next decade, work continued on the studio, which eventually included a complete ceramics shop (clay bats, wheel, ball mill, kiln, glaze spray booth) and sales showroom, a tool and storage room for Karl, spacious rooms for sons Eric and Brian, bathroom, and (upstairs) a large living room, with alcoves for bedroom and kitchen. Although original plans assumed that the upstairs residents would access the downstairs bathroom via the outdoor stairway, even in winter, Becky prevailed upon Karl to include an indoor stairway as the house evolved. Although the house matured into an eminently livable abode, with a unique and striking exterior, it was a work in progress that was never completed in some details.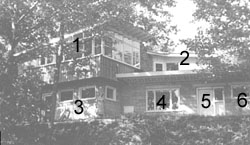 1. Living room with alcoves for Karl and Becky's sleeping area and kitchen. Wonderful view through the treetops of Brown County State Park.
2. Interior stairway, fronted by exterior deck.
3. Ceramics shop (right and rear), sales showroom (left front).
4. Brian's room with trombone.
5. Hallway with player piano, where Karl played boogie woogie and Becky played Beethoven's Moonlight Sonata, among other things. In rear of this section were tools, storage and a desk for Karl.
6. Eric's room with chemistry and electronics equipment and a science workbench and equipment drawers designed and built by Karl.


By 1960, Karl and Becky's lives had become centered in Bloomington. Karl and Becky sold their Brown County studio in 1961, and took up residence in Bloomington. By virtue of continual improvements following their artistic sensibilities, their modest Bloomington bungalow was gradually metamorphosed into a charming jewel of a studio/home, resplendent with an international art collection.