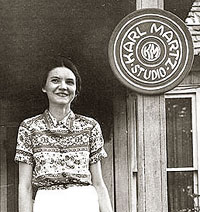 Becky Brown standing in front of the Pink House ca. 1940.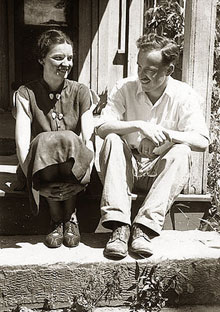 Karl Martz and Becky Brown sitting on the Pink House steps, ca. 1940.
Our Lives in Brown County
(1935-1961)
written by Becky Brown (Martz)
June 20, 1992
Click on any image for an enlargement with more information.
[Bracketed comments in italics added by Eric Martz in 2002.]
I moved from Bloomington, Indiana, to Nashville in January of 1935 after Karl and I were married. [Becky was 21, Karl, 23.] We lived in one room of the "Farmhouse" on Town Hill. [This was the main building of a girls' summer camp founded ca. 1910.] That property was then managed by the artist, Musette Stoddard. Karl was working at the Brown County Pottery for $5.00 a week. Needless to say, our parents helped us with presents of food, clothing, etc.
After several months [when the house was needed for the summer girls' camp] we moved across State Road 46 to the two-room cabin, Chewink. There Karl set up his first kiln made of a 20 gallon stoneware crock. We fired small pots that Karl made, and Portia Sperry sold at the Brown County Folks Shop. Most prices were fifty or seventy-five cents. This small kiln belched clouds of black smoke and sparks from its chimney during firing. At night this looked spectacular, and we heard that some people thought we were operating a still.
Sometime in 1937 we moved to the Batchfield Cabin three miles north on road 135. [See the story of how they found it.] Turning off 135 there was a steep, long hill to the cabin. There Karl built our first real kiln, coal fired. He built a one-room workshop with a dirt floor onto the cabin with my father's help. Occasionally we shared that studio with a black snake. Again Portia sold most of Karl's work. I was hired by the Brown County Artists as receptionist in their Gallery which was across from what is now the Village Green Building. We bought a second-hand Dodge coupe, sky blue color, from Art Coffey for $15.00. It hardly had any brakes but there was little traffic in those days. We drove it for a few years and sold it for $20.00.
Becky recalls building a fire in the Gallery stove on cold mornings. One summer, she took care of a dog that belonged to Karl's brother Bob's fraternity. (Karl's parents agreed to care for the dog during the summer, but asked Karl and Becky to do it while they took a trip to Ohio.) Becky would ask whoever seemed likely (such as Will Vawter) to watch the gallery while she walked the dog.
We first met Onya La Tour at that time. She was still living in New York City but was visiting Brown County and walked down our long hill to Karl's workshop. She became an important influence in our lives.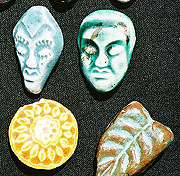 Scott Murphy convinced us that we needed to be more accessible and became Karl's patron. He helped us move into the Pink House one fourth of a mile west of Nashville owned by Grace Wilkes. Scott also helped us furnish a handsome display room. We moved our kiln and made a workshop in the long porch which connected the house and garage. The kiln was in the garage. We hung out our sign. I received visitors in the display room and began to help Karl in the workshop. One of my early projects was to make glazed ceramic buttons. They filled up small waste spaces in our kiln and helped put bread and butter on the table. Among our many generous friends, Scott, Portia, and the Brown County Artists helped us and encouraged us.
Becky remembers Grace Wilkes as being a wealthy patron of the arts who lived in Indianapolis and used her house in Nashville for summers. That house was up on a hill behind the Pink and Green houses.
It was a good life with Sunday morning picnics in Brown County State Park, and long evenings of wine and conversation before people's fireplaces. Eric was born in 1940 while we lived in the Pink House.
As the U.S. moved toward World War II, fewer people were able to come to Brown County. We rented the Mathis house from Jack Rogers and moved our display room into town. Karl continued to work at the Pink House having more uninterrupted time. I managed the display room. Brian was born while we lived there.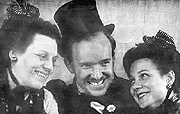 These were the years of the Brown County Theatre under the direction of Joseph Hayes. Karl and many Brown County people acted in the theatre. They had an outdoor stage, and the audience sat under the stars. Everyone seemed to enjoy it. Click photo at left for larger version and more information.
By 1942 there was little tourist trade. We has to close shop and finally sold all of our equipment to Indiana University. During the war years pottery making equipment was almost unobtainable. Indiana University was able to make a small beginning of its now famous ceramics school with our equipment.
We moved to Chicago where Karl found a war job at the Carnegie Illinois Steel Corporation. Later he worked for the Armour Research Foundation.
In 1945, Henry Radford Hope, new chairman of the Fine Arts Department invited Karl to come to teach ceramics at Indiana University. The war was over.
We rented the Snodgrass [log] cabin on 135 North from Walter Snodgrass. We had no car so Karl commuted to Bloomington with Virginia Weddle and later with Paul Page. Eventually we got our own car.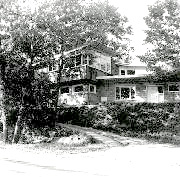 The Martz Studio (1949-61) built by Karl and Becky in Brown County.

In 1949 with the help of Earl and Alice Page, Karl designed and started building our house next to the Page Woodworking Shop. We worked on that house for ten years. The design was influenced by Frank Lloyd Wright. Onya La Tour built two houses at the top of the hill, and the Pages and we lived at the bottom just across from the North Entrance to the Brown County State Park.

Those were golden years. We opened our new studio to the public and both of us worked in it. Karl continued to teach at Indiana University. It was our plan to live there always, but as often happens, work problems and other unforeseen complications caused us to have to leave our dream house and move to Bloomington in 1961.

We have always had fond memories of the people of Brown County and of our time with them for many important years of our lives.

---
See also: