Scott & Ellen Murphy
and their impact on Karl Martz's early career.
I am indebted to the Murphys' grandson Ernest Scott Murray,
and great-granddaughters Carrie and Tracy Murray for information about the Murphys.
Back to MartzPots.Org
Lewis Scott Murphy (ca. 1890's-??) and his wife Ellen [maiden name?] Murphy (??-1978) were enthusiastic patrons of the arts in Brown County, Indiana for several decades beginning around the 1930's. They acquired a large collection of paintings, pottery, glass, quilts and coverlets by local artists. Their collection included dozens of ceramic works by Karl Martz.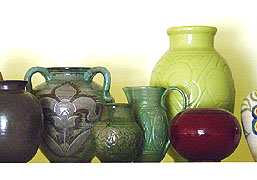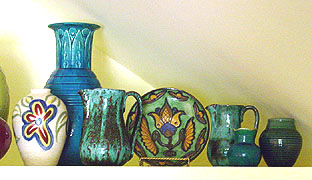 Click on images above for larger views.
See more photos below.
Scott was a Foreman or General Manager at an ironworks in Marion, Indiana, that manufactured components for railroads. The Murphys established a summer home in Nashville, Indiana which they named "LewEllen Estates", and where they often entertained. After Scott retired in ??, LewEllen became their year-round residence. It was located on Vawter Hill, the present (2004) site of the new Brown County Library. Other artists including Louis O. Griffith and Ada Schulz also had houses on Vawter Hill at the time. Scott was over six feet tall, sociable and entertaining, and he enjoyed cooking outdoors for some of their frequent parties. Scott and Ellen's Sunday Breakfasts at LewEllen were renowned as lively gatherings for the local artists and art collectors. Ellen wrote poetry.
Scott "discovered" Karl Martz in 1937 at Karl's first studio, in the remote Batchfield Cabin. Scott persuaded Karl and Becky to move their studio to a location more accessible to tourists, and he generously helped to fund the move and to set up and furnish the new studio and showroom, in the Pink House. Becky Brown Martz remembers Scott's generosity as one of his foremost traits. It is quite possible that Karl would not have been so successful early in his career (1938-1942) without Scott Murphy's encouragement, guidance, and support.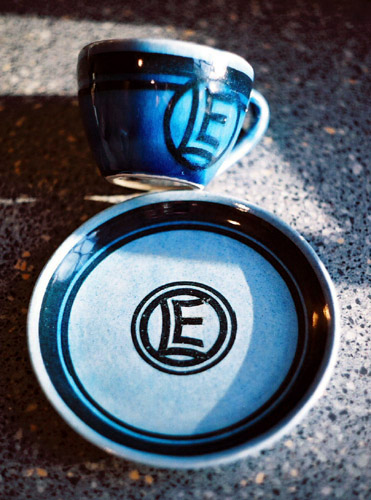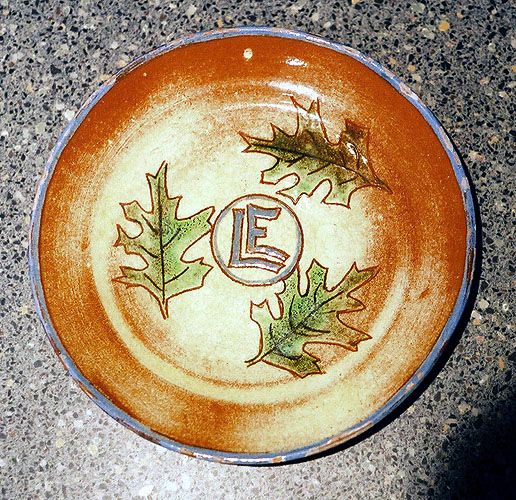 Karl made two sets of ceramic dinnerware for the Murphys. In 2004, Becky Brown Martz (Karl's wife) says this was a miracle, because Karl hated to make any two pots the same, and "nearly went crazy" making the Murphy dinnerware. Dates on the dinnerware pieces span several years, suggesting that it may have taken Karl several years to complete the set. The dinnerware is monogrammed "LE", for LewEllen Estates.
Becky also recalls that on a number of occasions, Scott invited Karl to accompany him on business trips by car to large cities in the MidWest. Scott and Karl used these opportunities to visit art galleries and collections. These trips early in Karl's career (1937-1942) considerably broadened Karl's horizons, according to Becky.
All pottery in the photos on this page are by Karl Martz, most made 1938-1941. Individually pictured works, and some of the works in the group pictures, were originally in the Murphy Collection. Click on any image below for a larger image and more information.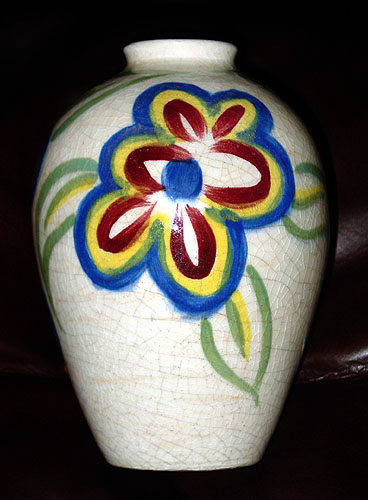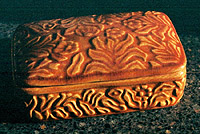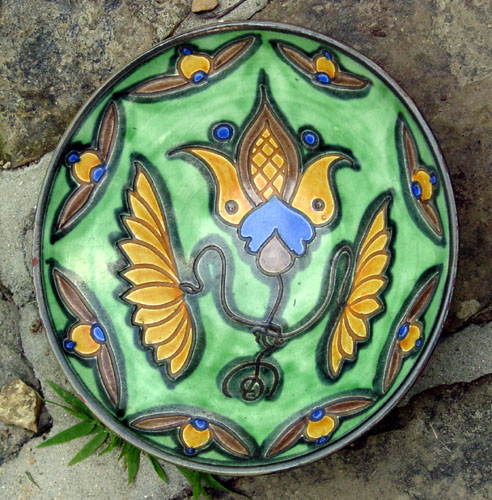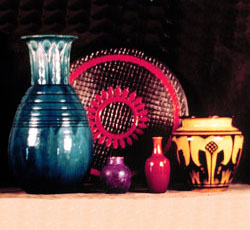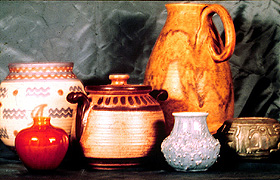 Scott and Ellen had two children, Jimmy (??-??) and Mary Jane (??-1979). Mary Jane married Ernest Cory Murray, a physician. They had two sons, Ernest Scott Murray (born 1945) and Thomas Allen Murray (born 1947, an archeologist who has lived in Honduras). Ernest Scott Murray married Joanne [maiden name?]. They had two daughters, Tracy Ellen Murray, a history teacher, and Carrie Murray who is studying art history.
Other documents on this website that mention Scott Murphy: