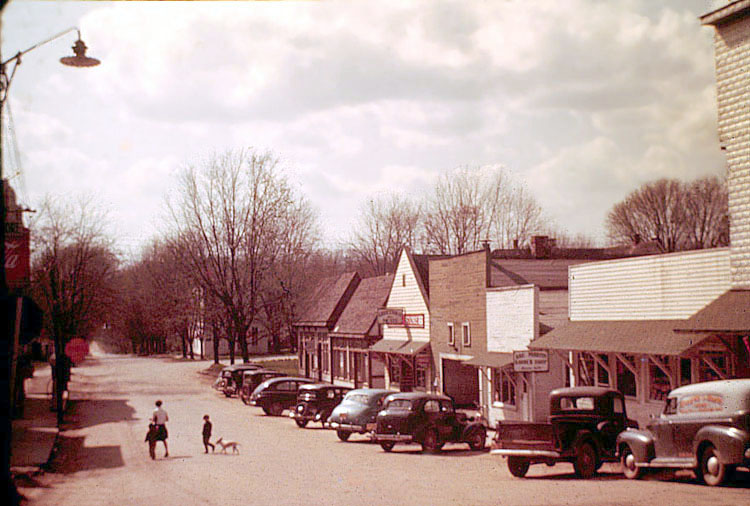 Nashville, Indiana, about 1939.
Taken from the intersection of Van Buren St. and Main St., the "center of town" (at that time), looking down West Main St. The Brown County Court House is behind, on the right. "Pods" Miller's Drug Store is in the left foreground, just out of view. Photographer unknown. See below the post office in 1935.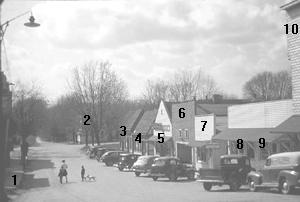 Buildings in the key at the right were recalled by Barbara Judd in 2001 as follows:
South side of West Main Street from foreground to background (all out of view):

"Pods" Miller's Drug Store (the Hob Nob Restaurant in 2002).
Building housing the local phone operator, Marie Poling.
3 story brick building:

Ground floor: Calvin's Hardware.
Second floor: Nashville Library (note 1).
Third floor: Masonic Lodge.

Frank M. Hohenberger Studio, (later studio of Glen Henshaw, later burned).
and 4. Brown County Art Gallery (note 2).
Rogers Grocery Store (note 3).
Sign hanging from the front appears to say in part "Groceries and Meats". Red sign flat on front of building is partially hidden by protruding sign; visible portion says simply "... Store".
Melodian Hall where movies were shown.
Tavern and pool room.
Woody's Barber Shop.
Sign hanging from the front says in part "Abe Martin Barber Shop".
County Health Office staffed by nurse Catherine Laury.
The Star Store (groceries).
Panel truck in front of this store appears to say in part "(Groceries?) and Meats".
Notes:
When the Library moved, students in the High School were excused from classes to help. Books were tossed out of the second story windows and caught below.
Becky Brown worked as a receptionist and sales person in the Brown County Art Gallery in the late 1930's and early 1940's. In addition to showing and selling paintings of local artists, the Gallery carried some artists' supplies. She recalls Will Vawter coming in and asking for a tube of oil paint, "that real cheap lead white".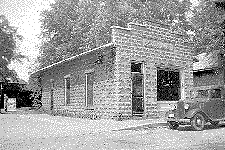 The U.S. Post Office in Nashville, Indiana, 1935. (larger view).

Nearby (just out of view, west of the Post Office on the North side of East Main Street), was Keith Taggart's gas station.