Karl Martz Photos by Frank Hohenberger
at MartzPots.Org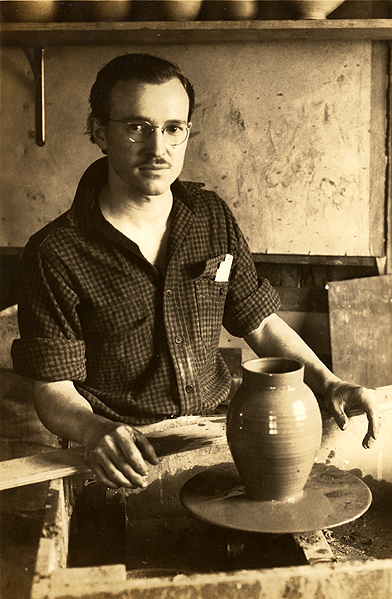 The photograph at left is of Karl Martz ca. 1937-38 in his studio at the Batchfield Cabin. This on-line scan is taken from a print stamped on the back "Frank M. Hohenberger, Nashville, Ind." The print was given to the Martzes by Hohenberger. Karl and Frank got together periodically in the late 1930's to practice drawing and sketching.

Frank M. Hohenberger (1876-1963) was a photographer of note, and author of newspaper articles, in Nashville, Indiana from 1917-1963. Hohenberger's work is indexed on-line at the Digital Library Program of Indiana University, Bloomington, where his prints and negatives are archived in the Lilly Library of rare books, manuscripts, and special collections. More information about Hohenberger can be found at the above link.

The photo at left is also available through the Lilly Library, where more of the pots on the wareboard above Karl's head can be seen.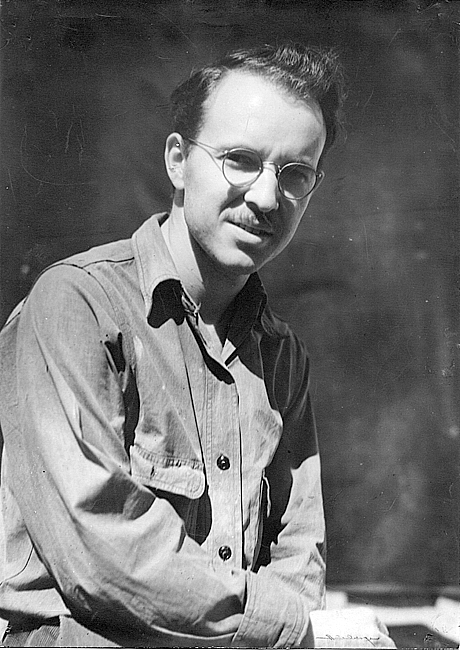 The photograph at left is of Karl Martz in 1938 or 1939. This on-line scan comes from a black and white print given to Karl by the photographer, Frank M. Hohenberger, who also signed this print in tiny pencil at the lower right (see signature enlarged below).
The photograph at left was apparently printed from a color negative, since there is an identical color image (except facing to the left) at the Lilly Library.


Enlargement of the signature over Karl's hand at the lower right of the above photographic print.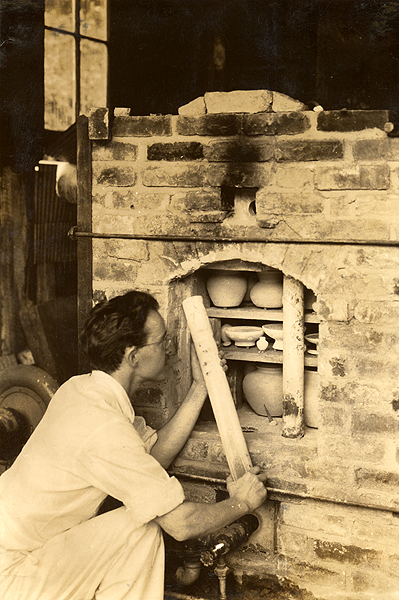 Karl Martz at his kiln in the Pink House, 1938. Photo attributed to Frank M. Hohenberger. In this photo, the kiln has not yet been fired. The Lilly Library (see above) has a photo of the same kiln stacked with the same pots after firing. The pot at the lower left is similar to a 1938 pot auctioned in December 2001.
Below are shown the contents of the kiln in more detail. If you recognize any of these pots, please contact me.