Signatures of Becky Brown
See also:
Click on any signature image below to see the rest of the piece.
Becky Brown's full birth name was Margaret Rebekah Brown, and after her marriage to Karl Martz in 1935, she adopted the legal name "Becky Martz", which is what her friends called her. For her ceramics, however, she consistently used her birth name "Becky Brown" to avoid confusion with her husband, whose reputation was already well established when she began designing her own ceramics. The fact that Becky Brown did her early work in Brown County is coincidental. After 1961, she did her ceramics in a studio in their home in Bloomington, Indiana (which happens to be in Monroe County).
Before 1950, Becky Brown made largely production pottery while apprenticing in ceramics under the mentorship of her husband, Karl Martz. Production work consisted of a series of identical molded bodies, with variations in glazing. These pieces were slip cast or press-molded using molds made by Karl Martz. Here are three signatures representative of this period. The two signatures on the left appear to have been carved into the mold, or a stamp, probably by Karl, while the one on the right was handwritten with a stylus, presumably by Becky. Several small individually-decorated vases with handwritten "Becky Brown" signatures have been auctioned, as shown in the second row below. Based on their styles, these are thought to have been made in the Pink House ca. 1938-1942.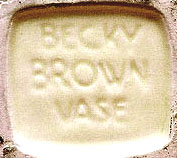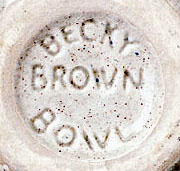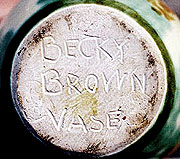 ---
Beginning about 1950, Becky Brown began crafting her own original designs. She has consistently signed these works with either her full name, or "BB" (with the characters overlapping as shown below), on nearly all of her works.

---
---
Return to Karl Martz & Becky Brown