IU art professor, potter Karl Martz dies at age 84 (Herald Times).
World-renowned ceramicist dies at 84 (Indiana Daily Student).
This obituary was written by Prof. Thomas F. Coleman of the Indiana University School of Fine Arts. Shortened versions were published in the Bloomington Herald Times on May 29, 1997, and the the Indiana Daily Student on June 2, 1997.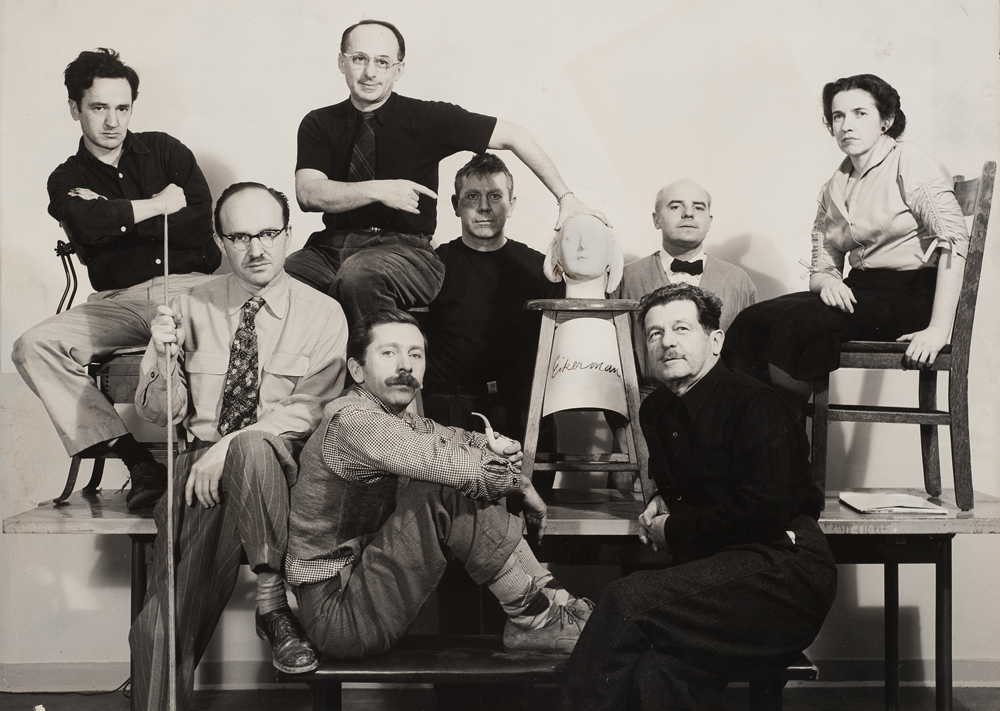 A portrait of some of the department of Fine Arts notable faculty taken in 1953. They are (from left) Alton Pickens, Karl Martz, Henry Engel, Arther Deshaies, George Rickey, Henry Holmes Smith, Robert Laurent and Emily Wilson Wolfson. Not shown: Alma Eikerman. Photo by Henry Holmes Smith: Group Portrait for Gallery Opening.
Copyright Indiana University. Henry Holmes Smith Archive. Reproduced with permission from the Indiana University Art Museum. Image 100.IX.3.1a. Digital scan by Kevin Montague.
---
Karl Martz, professor emeritus of ceramics at the Henry Radford Hope School of Fine Arts at Indiana University, died Tuesday (May 27, 1997) at Bloomington Hospital. He was 841.

His teaching and creative career at IU spanned 32 years and was distinguished by several outstanding achievements, including induction into the American Craft Council College of Fellows and recognition as a "Distinguished Hoosier" by former Indiana Governor Robert D. Orr.

A world-renowned glaze chemist and ceramicist, Martz preferred to call himself a potter, even though his works are in the permanent collections of museums including the Smithsonian Institution, the Tokyo Museum of Modern Art, and the Museum of Contemporary Crafts in New York.

Born June 24, 1912, in Columbus, Ohio, Karl was the son of Velorus Martz and Amy Lee Kidwell Martz. One of Bloomington's own, he graduated from Bloomington High School in 1929 and earned a bechelor's degree in chemistry from IU in 1933. As a young man, Martz found the answer to combining his interests in science and art through ceramics studies at Ohio State University during 1933-34. In 1935, after apprenticing at the Brown County Pottery, Martz married Becky Brown and the two set up their own studio and shop in Nashville, Indiana.

During World War II, Martz worked as an assistant ceramist conducting defense industry research at the Armour Foundation in Chicago. To satisfy his fascination with artistic design and glaze, he taught night ceramics classes at the Chicago School of Design run by Bauhaus expatriate-founder Lazlo Moholy-Nagy.

Martz returned to Bloomington in 1945 when Henry Hope, director of IU's new School of Fine Arts, and Herman Briscoe, then Dean of Faculties, hired him as head of the ceramics program.

In 1952, Martz attended a symposium at Black Mountain College2 that proved to be an artistic turning point. It was his first hands-on exposure to the Oriental pottery esthetic. His work in the following years was strongly influenced by the ceramics of China, Iran, and especially Japan, where he spent sabbaticals in Kyoto and Mashiko.

In addition to his teaching and constant experimentation with ceramic technique and form, Martz's work at IU included the production of several educational films3. Six films demonstrating the techniques of pottery making were produced by the University. One of the films won a prize at the Cleveland Film Festival, and another was used by the U.S. State Department as a teaching tool. More than 1,800 copies of his films were purchased by public schools, colleges, libraries and museums.

From his early work with Brown County clay, Martz imbued a simple craft with the techniques and sensibilities of fine art. He is remembered as one of the country's top glaze chemists, an influential teacher and an artist of rare integrity.

Survivors include his wife, Margaret Rebekah Brown Martz of Bloomington; two sons, Brian Martz of Stevens Point, Wisconsin and Eric Martz of Amherst, Massachusetts; five grandchildren and two honorary grandchildren4.


---
1. Karl Martz was born June 24, 1912, in Columbus, Ohio, to Velorus and Amy Lee Kidwell Martz.

2. Other notables attending the workshop at Black Mountain College in 1952 were Shoji Hamada, Bernard Leach, Marguerite Wildenhain, and Soetsu Yanagi.

3. The series of films were titled Craftsmanship in Clay.

4. Karl and Becky considered potters Tom and Ginny Marsh of Borden, Indiana and the University of Louisville, Kentucky, to be their spiritual children, so the Marsh children Nathan and Becky Jean became honorary grandchildren.