Paper Serial Numbers on Karl Martz Pots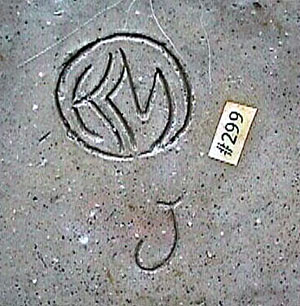 Many pots made by Karl Martz have glued to the bottom a small paper rectangle with a typewriter-typed number preceded by '#', such as the "#299" on the Jugtown example at the right. Because they are common on his pots, and because of the file described below, I believe these numbers were applied by Karl himself. I don't recall discussing these with Karl when he was alive and Becky was not involved in this numbering scheme.
These are probably of no importance, but aroused my curiosity (and perhaps the curiosity of many other owners of pots made and so-labeled by Karl). Based on findings below, Karl was apparently uncharacteristically haphazard about using and recording this serial number system. Most of his pots lack these serial numbers, many have them, and some that have them had no information recorded in the master file described below.
In 2001 (4 years after Karl's death), I found a file folder with a partial list of these serial numbers. This file did not contain very much information of interest. It contained:
Missing: numbers 1 - 238. It is unclear whether these were used. If you find a number in this range, please send details and photos. Possibly there is a file folder not yet unearthed containing lists of some of these. A pot made in 1969 in Port Chester NY has a paper rectangle with "234" written in black felt marker.
Handwritten list of numbers 239-272 with short descriptions, dimensions in inches, year made, and in some cases original price asked. Years range from 1934-1988 in no particular order. This suggests that these numbers were assigned in approximately 1988. This would imply that pots made prior to 1988 and no longer in his possession would lack such paper serial numbers.
Missing: numbers 273-313. This gap occurs between two pages hand-numbered "Page 2" and "Page 3" in Karl's handwriting. The occurrence of "#284" on a carved celadon bowl in our possession and "#299" on the example at right suggests that at least some numbers in this range were used. Other out-of-order numbers in this "missing" range listed with very short descriptions in the file are 284 (description agrees with above) , 293, 307, 309, and 310. I have a 1962 piece with a paper rectangle with "285" but it is written in pencil so it is unclear whether this is from the typewriter-typed series.
List of numbers 314-331 and 350 with short descriptions, dimensions in inches, year made, and in some cases original price asked. Years range from 1978 to 1990 in no particular order.
Pre-cut paper sticky labels with numbers 332-347, ready to apply to the bottoms of pots, suggesting that numbers higher than 331 were never assigned (except for 350? see previous item). However, a pot in our possession has "#341", a duplicate of one in this group! Karl's file contained a list 337-358 with no descriptions (including at #341) except for #350.
If you have a pot with one of these labels in the "listed" ranges above, send me an email and I'll be happy to tell you what the file says.
---
Feedback to Eric Martz.