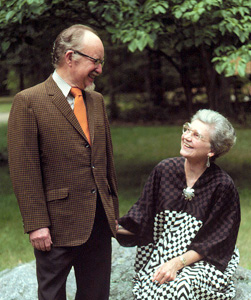 Karl Martz Retrospective, 1977
Upon his retirement in 1977, a retrospective exhibit was assembled at the Indiana University Art Museum in Bloomington. A retrospective catalog was published, and Karl's career was described in the May 1977 issue of Ceramics Monthly in an article lavishly illustrated with eight large color photographs and eleven black and white photographs, each of a single pot.
The photographs linked below are of cases in the show. Most of the individual pots are neither identified nor dated in these photos. Date ranges given below are approximate.